The Army wants better, more robust solutions for delivering wireless networks in the command post. Recent actions by the vendor community suggest the private sector is looking to play a part in that evolution.
PacStar, for instance, recently unveiled its Secure Wireless Command Post (Wi-Fi) product, which the company said is tailor-made to suit military needs.
"Wireless had transformed our lives as consumers and in the workplace," said Charlie Kawasaki, the chief technical officer at PacStar, a longtime partner in the Army's Warfighter Information Network-Tactical (WIN-T) program. "This is an enabler to deploy that same mobility for the war fighters, and we think the sky is the limit in terms of what those applications might be."
In fact the Army is taking a hard look at a range of commercial solutions in pursuit of this same vision. Wi-Fi "is going to untether the commander from the workstation, allowing them to have greater mobility and agility, which equals greater speed," said Lt. Col. Mark Henderson, product manager for WIN-T Increment 1, which encompasses command-post Wi-Fi efforts.
The Army is currently collecting input from a range of smaller pilot efforts, with an eye toward larger command-post Wi-Fi rollouts in the near future, Henderson said. Trials all involve commercial hardware and software, secured under National Security Agency standards. Early last year, for example, the service named the company Aruba of Sunnyvale, California, as a supplier of command-post Wi-Fi at Army, Army National Guard and Army Reserve tactical units worldwide.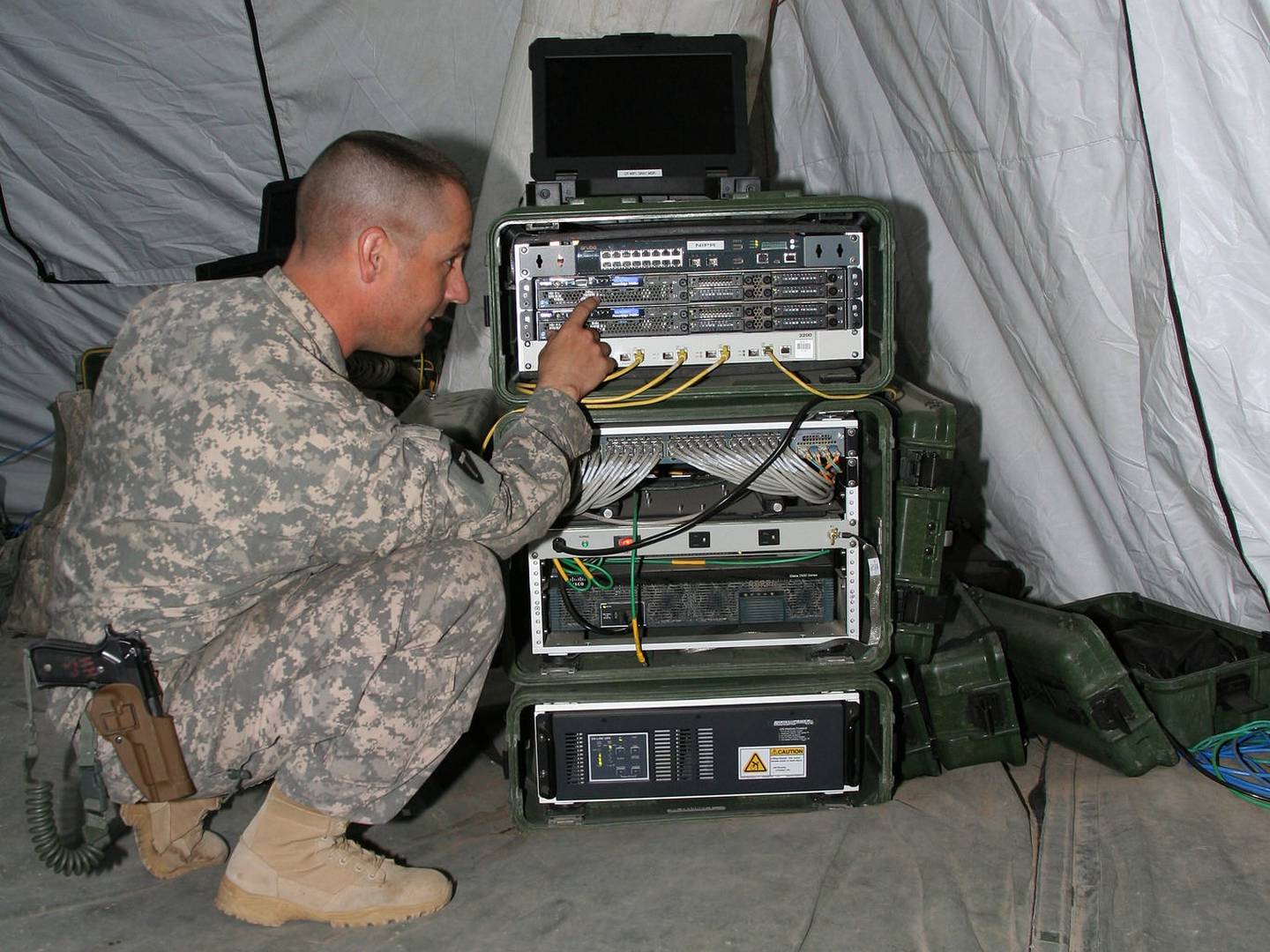 This followed on the heels of mid-2015 Network Integration Evaluation 15.2 in Fort Bliss, Texas, where the Army demonstrated an unclassified wireless command post with a battalion-sized element, and another demonstration at NIE 16.1 last fall.
Despite these first forays, Wi-Fi isn't a mainstay of the command post yet. "We are in the early stages. It is not vastly deployed across the Army yet," Henderson said.
Early results
In early testing, "the feedback is quite good in terms of the speed in which they can get the networks setup," Henderson said. This is a key metric for the Army, which is looking to wireless networking as a way to streamline construction of its highly complex command-post networking architectures.
It can take a platoon of soldiers an entire day to build a command post, with its many hundreds of feet of cable and its complicated compilation of computer servers and terminals. The quest for Wi-Fi is at its core a search for a more efficient and effective mechanism, a system that would not only streamline the networks but also make it easier to move the command post as action on the battlefield evolves.
"Commanders need to be able to communicate and talk to echelons, and they don't have a lot of time to get set up. This allows them to get set up extremely rapidly and to connect to the broader network," Henderson said.
While Army leaders are generally satisfied with the performance of Wi-Fi in the field, they say they need to see progress on a number of fronts before they can pursue a full-blown solution.
"The Army is always looking at how you can take what we have today and make it even faster. Can we make it even more secure? Can we continuously reduce complexity and make it easier for soldiers to operate? We are continuously looking at all those kinds of improvements," Henderson said.
The service is looking to private partners to point the way. Given the rapid pace of change in the technology work, especially around issues of networking and cybersecurity, the Army is counting on a commercial off-the-shelf approach to deliver the most timely Wi-Fi solutions. "We are looking for the best of breed that industry produces," Henderson said.
PacStar executives say their latest offering proves industry is ready and willing to meet that bar.
Kawasaki describes the wireless initiative as a means to pare down and streamline not just setup times, but the entire command-post networking architecture, which typically comprises a wide range of disparate devices.
"In a typical enterprise implementation they would be rack-mounted, weighing 300 pounds, and you'd have to wire them all together," he said. PacStar's command-post product is preconfigured so that all these devices can be connected to a central unit for quick connectivity. "You plug it in and turn it on. The Wi-Fi comes up and away you go, just like you would in an office environment."
The Army has no timeline set for wide-scale command-post Wi-Fi usage, but Henderson suggested it will be sooner rather than later. "Gone are the days when the Army could afford to operate out of fixed locations," he said. "The multidomain fight demands speed of mobility. If we can do it with commercial technology, that is what we want to do."
Share: