A new Army unit will help the service operate against enemies such as Russia and China on a daily basis but will do so below the level of conflict. In addition, the new group could help set the stage for more traditional kinetic battles.
The Intelligence, Information, Cyber, Electronic Warfare and Space detachment (I2CEWS) — a battalion sized unit described as the "brain" of the Army's multidomain task force — will integrate all the capabilities within its namesake under a single formation.
"They must be present in the competition phase. That's when they can do their best work … and set the stage if we do go from competition to crisis you are prepared," said Gen. Robert Brown, commander of Army Pacific, where the multidomain task force is focused. "Quite honestly, we were not present in the competition phase and certainly, China and Russia are. It's good to be able to be there to make sure we can compete and prepare for what happens."
Previously, officials described the I2CEWS as teams that would focus on a specific geographic region, either in the Pacific or Europe, and would take on different forms based on their area of emphasis.
Brown, speaking March 27 at the AUSA Global Force Symposium in Huntsville, Alabama, noted that there is now a constant state of "continuous geopolitical hyper competition."
The United States typically has not operated in this so-called competition phase, but actions by Russia and China have forced military leaders, and by extension Army leaders, to rethink their approach.
RELATED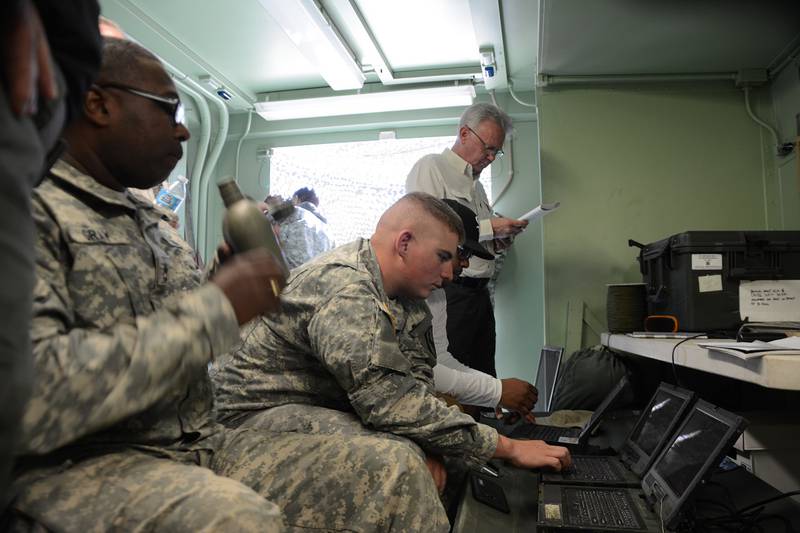 "Probably the most strategically challenging [part] for the United States in particular, but also western democracies, is this idea of leveraging the competition space," Lt. Gen. Eric Wesley, director of the Army Futures Concept Center, said March 26 at the AUSA conference.
"What [adversaries have] been able to do [is] achieve their operational and strategic objectives in fait accompli victories that have diluted the deterrent effect that we've relied on for the last 50 or 60 years. ... If the United States, our partners and allies, do not get into the competition phase, we will find that our deterrent effect and our ability to achieve our strategic and operational objectives over time will continue to diminish."
Authorities concerns
Wesley said the Army is still working through several issues related to the new teams, including whether to increase cyber authorities at the operational and tactical level.
"We believe that authorities, although well harnessed right now at senior levels, are going to have to migrate downward in order to employ multidomain operations," he said.
It is still not clear how the Army plans to work through the current setup that dictates how cyber capabilities are used. Today, those authorities are coordinated through U.S. Cyber Command at the joint level and executed through regionally focused Joint Force Headquarters-Cybers.
Because the individual services do not own offensive cyber teams, tactical and operational commanders can only request help on the cyber front from their superiors. However, the Army is establishing smaller cyber and electronic warfare teams because at the tactical level, there is more latitude to conduct "offensive cyber" through the electromagnetic spectrum. Operations that require more IP based cyber activities are undertaken by the cyber teams that belong to Cyber Command.
In some respects, the Army is recognizing that it doesn't necessarily need all the capability organic to Army units. With new cyber and electromagnetic activities (CEMA) cells that will plan cyber and electronic warfare operations, staffs will have resident experts in these emerging areas.
These planners "will know the right touchpoints to reach out for help, because you don't necessarily have to own an effect to have an effect support your scheme of maneuver," Maj. Gen. John Morrison, commander of the Cyber Center of Excellence, told Fifth Domain in a February interview.
Moreover, Army leaders said the service needs to get better at knowing the right authorities and policy questions to ask in order to accelerate the approvals process.
Wesley told reporters that the Army is taking liberties with authorities during exercises and has played out scenarios where authorities have been delegated down to the tactical level.
Mark Pomerleau is a reporter for C4ISRNET, covering information warfare and cyberspace.
Share: